Leonardas Pobedonoscevas finds his beloved Bali in Lithuania, too
2020 05 13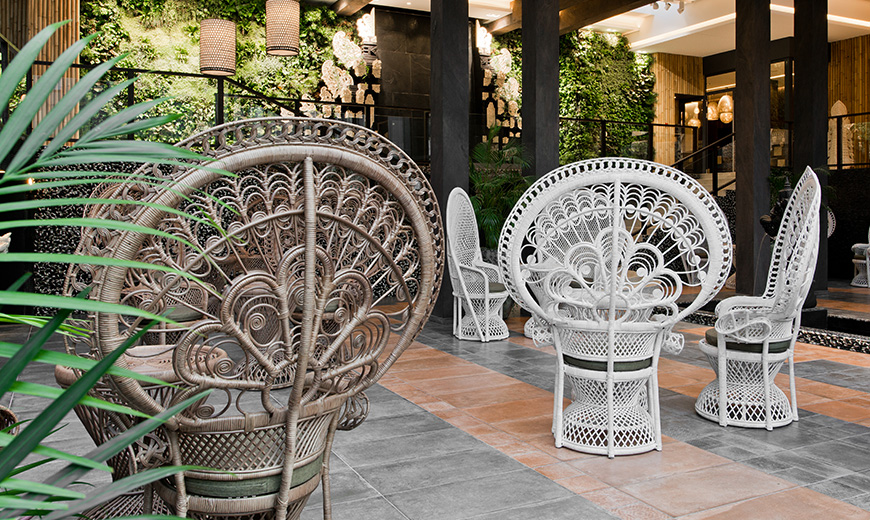 Leonardas Pobedonoscevas, an actor and enthusiastic traveller, has long proclaimed his love for Bali – one of the most beautiful islands in the world. The man, who had lived in Bali for a year and a half with his family and who frequently returns there, says he has found the spirit of this Indonesian island in his native land as well.
"Bali refreshes the body and soul, which is why I'm gradually dragging it home to Lithuania," the actor smiled. "At home, my wife Ieva and I have created a Balinese interior. We brought home pastel-coloured furniture, carved light fixtures, various bamboo decor, palm leaves, and reeds."
Druskininkai is another lithe corner of the world where he feels the spirit of his beloved Bali. Every single carefully selected interior detail at the Flores hotel, which opened here a couple of years ago, was transported straight from Indonesia.
According to L. Pobedonoscevas, the Balinese are careful and professional craftsmen who maintain the deep traditions of their crafts.
"When living in Bali, I visited a teacher for acting and movement lessons at his home. We worked with Mikhail Chekhov's system by using traditional Balinese masks," L. Pobedonoscevas recounted. "During our breaks, I had the opportunity to observe the craftsman who carved those masks from morning until night by hand as he sat in the lotus pose. The Balinese do this quickly and precisely. If they've been carving wood since their childhood, that's what they'll do until they die. The Balinese people are like careful jewellers. I can only bow my head before them."
There are no factories in Bali. Both in the actor's home and in Flores hotel, the decorations were made by simple craftsmen by hand – often in the street.
"Life there happens outside. They cut, weave and carve those items in the street," the man explained. "The first time I drove through Bali, I was impressed by the thousands of different statues that were for sale by the side of the road. I had once thought these things were made in factories and cut with lasers, but it turns out they had made them with their own hands."
The colours and textures that dominate Bali can also be found throughout Flores hotel, which Leo loves. Here, you can find lucky lava from Indonesia, wood that has been hidden underground for hundreds of years, sandstone, pebbles smoothed by the waves, a teak tree, a mango tree, bamboo, banana leaves, various carvings, mosaics, sculptures, and many other interior details found in Bali.
"Clean thoughts, clean words, good behaviour – that's what the Balinese believe and how they live," said L. Pobedonoscevas, adding that this isn't hard for him to believe as well when he's in an environment that radiates the stories and energy of Bali.