Druskininkai city musical fountain – water, light and music show!
The Musical Fountain situated in the town centre is not just pleasant to look at. Order your favourite song and admire the spectacular show of water, colours, music and dancing. The Fountain performs for local residents and guests in the summer and turns into a holiday decoration in the winter.
You can order fountain melodies by short messages. Price € 2.9. The fountain is open daily from 10:00. until 11 p.m.
Quality phone: 8 313 44322
I select a melody from the list
I'm looking at her code "F0031"
In the message box, I enter the code F0031
I am sending the number 1670
I receive the message "Your selected work will be played on date, time"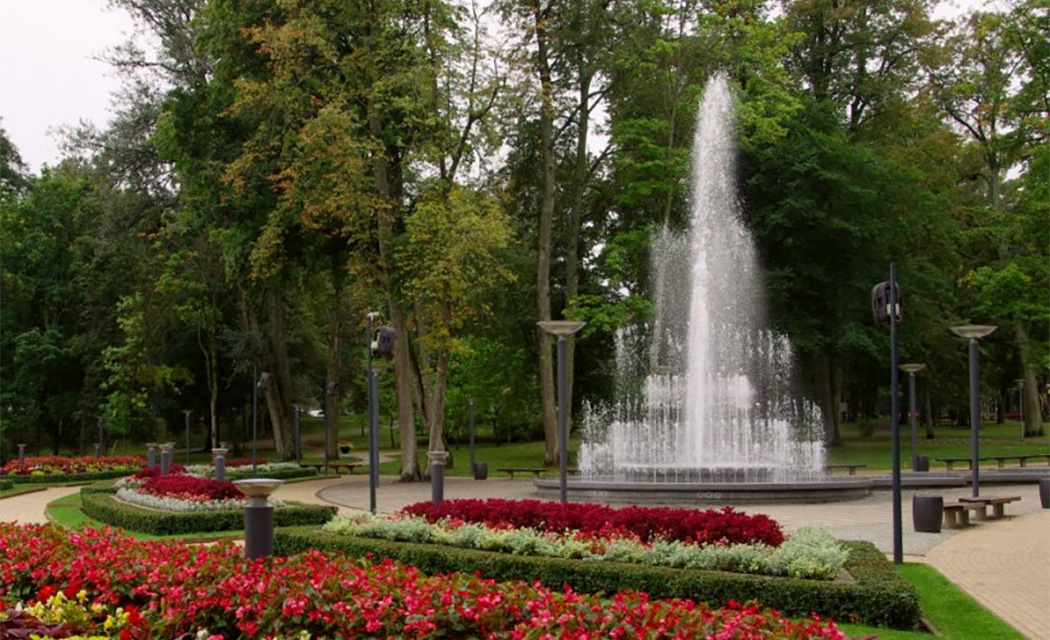 Musical fountain song list
| Song code | Name of the song |
| --- | --- |
| F0002 | Annie Lennox - No More I Love You |
| F0003 | Antonio Vivaldi - Summer |
| F0004 | Enya "Celtic Woman" - Orinoco Flow |
| F0005 | Duck Sauce - Barbra Streisand |
| F0006 | Elton John - Crocodile rock |
| F0007 | Frank Sinatra - New York, New York |
| F0008 | Freddie Mercury - Living On My Own |
| F0009 | (Ukraine) Gaitana - Be My Guest |
| F0010 | Mario Basanov & Vidis ft. Jazzu - Give It A Try |
| F0011 | John Travolta & O. N. - You're the One That I Want |
| F0012 | Fools Garden - Lemon Tree |
| F0013 | (Sweden) Loreen - Euphoria |
| F0014 | Louis Armstrong - What A Wonderful World |
| F0015 | Michael Jackson - Beat It |
| F0016 | Grease - We Go Together Grease |
| F0017 | Sarah Brightman - Time To Say Goodbye |
| F0018 | Seal - Amazing |
| F0019 | (Romania) Mandinga - Zaleilah |
| F0020 | Christina Aguilera - Candyman |
| F0022 | Johnny Wakelin - In Zaire |
| F0023 | Leon Somov ft Jazzu - Tyla (akustinė versija) |
| F0025 | Safri duo - Played alive |
| F0026 | Mike Oldfield - Hibernaculum |
| F0027 | Las Ketchup - The Ketchup Song |
| F0029 | Blue - Breathe Easy |
| F0030 | Pinup girls - Madinga vasara |
| F0031 | Sinead Oconnor - Nothing compares 2 you |
| F0032 | Wolfgang Amadeus Mozart - Rondo alla turca |
| F0034 | Westlife - You rise me up |
| F0038 | Married With Children - Theme tune |
| F0041 | Poetinis Druskininkų ruduo - Himnas |
| F0049 | Michael Buble - Feeling good |
| F0051 | Kaštonai - Fermerio dukra |
| F0053 | Pitbull feat. Michael Telo - Ai se eu te pego |
| F0052 | Pitbull feat. Bob - Across the world |
| F0054 | Serenada - Mažoji nakties muzika |
| F0055 | The Pink Panther - Theme song |
| F0056 | Sting - Englishman in New York |
| F0057 | Freddie Mercury - Barcelona |
| F0058 | Enigma - Return to innocence |
| F0059 | F.Schubert - Serenade |
| F0060 | Tchaikovsky - Spragtukas (The Nutcracker) |
| F0061 | Ludwig van Beethoven - Für Elise (Elizai) |
| F0062 | Adele - Rolling in the deep |
| F0063 | Florence The Machine - You've Got the Love |
| F0064 | James Brown - I feel good |
| F0065 | Bruno Mars - Locked out of heaven |
| F0066 | Rihanna - Diamonds |
| F0072 | Martynas Kavaliauskas - Balada |
| F0067 | Timati feat. Grigorij Leps - London |
| F0073 | Nyusha - Vybyrat chiudo |
| F0068 | Hurts - Blood, tears and gold |
| F0069 | Whitney Houston - I will allways love you |
| F0070 | Whitney Houston - I have nothing |
| F0071 | Vanessa Mae - Storm |
| F0074 | Gusttavo Lima - Balada Boa |
| F0075 | Džordana Butkutė - Gimimo diena |
| F0076 | LNK - Gimimo diena |
| F0077 | Céline Dion - I'am alive |
| F0078 | Donatas Montvydas - Nenuleisk akių |
| F0079 | Donatas Montvydas - Love is blind |
| F0081 | The Lumineers - Ho Hey |
| F0083 | Simply Red - Stars |
| F0080 | Miami Dolphins Cheerleaders - Call me maybe |
| F0082 | Charles & Eddie - Would I lie to you |
| F0084 | Elton John - I'm still standing |
| F0085 | Andrius Mamontovas - Nebelauk |
| F0086 | Labirinth - Beneath your beautiful |
| F0087 | Kankanas - Iš operetės Orfėjas pragare |
| F0088 | Joe Cocker - Summer in the city |
| F0089 | Marijonas Mikutavičius - Trys milijonai |
| F0090 | Emeli Sande - Read all about it |
| F0091 | STT - Papurtom pamaišom |
| F0092 | Queen - We are the champions |
| F0093 | Queen - Don't stop me now |
| F0094 | Pinup girls - Cirkas |
| F0095 | Michael Telo - Ai se eu te pego (RU) |
| F0096 | Swedish House Mafia - Don't you worry child |
| F0097 | Alicia Keys - Girl on fire |
| F0098 | Kitokios - Tau gera |
| F0099 | Karčema - Oi palauk mergužėle |
| F0100 | Ed Sheeran - Give me love |
| F0101 | Kastaneda - Vasarą įsimylėjau |
| F0102 | Flo Rida - Let it roll |
| F0103 | Kirill - Na kraju sveta |
| F0104 | Lucenzo, Qwote, Pitbull - Danza Kuduro |
| F0105 | Mandinga - Papi chulo |
| F0106 | Haddaway - What is love |
| F0107 | Radiocentras - Ateina senis |
| F0108 | Seal - A change is gonna come |
| F0109 | Seal - I've been loving you too long |
| F0110 | Jose De Rico & Henry Mendez - Rayos De Sol |
| F0111 | Hermes House Band - Hit the road jack |
| F0112 | Katie Melua - Nine million bicycles |
| F0113 | Jutty Ranx - I see you |
| F0114 | Pajushie Trusy - Cauna |
| F0115 | Duke Dumont feat. AME - Need U 100% |
| F0024 | M.K. Čiurlionis - Jūra |