Druskininkai water park sauna master J. Austrotas: "Should I thrash you, flog you, or beat you?"
2020 05 13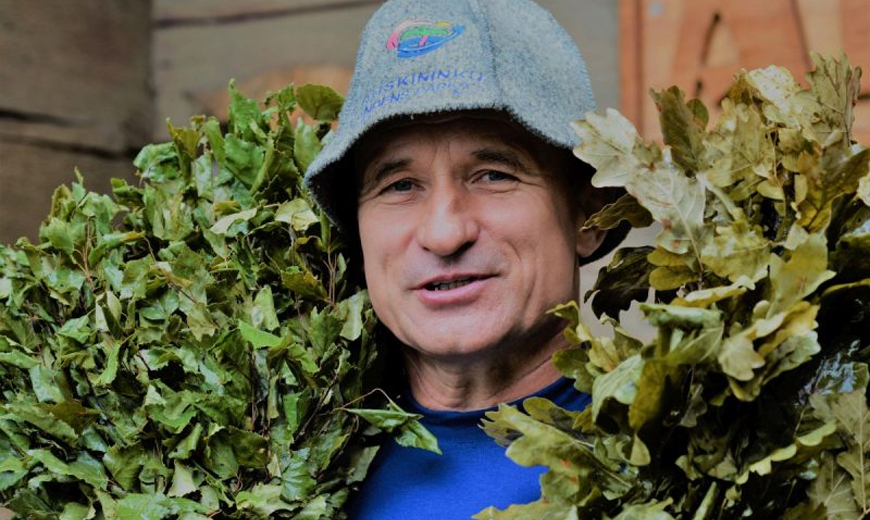 The Druskininkai Aqua Recreation and Health Center is famous for its many water activities and saunas, of which there are more than 20. Its employees like to joke that whoever holds the bath brooms runs the saunas. One of the most experienced beating experts at the resort is sauna master Juozas Austrotas, who personally ties 6,000 bath brooms by hand every year. Not only can this man give the water park's visitors a proper beating, he also teaches them to love the sauna and to choose brooms that work miracles.
Juozas Austrotas, who has worked at the Druskininkai water park for more than ten years, likes to joke that he has been possessed by the spirit of the sauna. "I have to go to the sauna at least three times a week. I couldn't live without hot steam and the scent of the bath brooms," he says. Juozas recommends that the rest of us mere mortals go to the sauna at least once a week for a beating. This will make visitors more resistant to diseases and make their lives happier. The bath broom is his primary work tool. Not only does he use it to beat or massage, it also creates the entire atmosphere at the sauna. Therefore, it must be tied and selected correctly.
These aren't ordinary brooms.
"I wouldn't know how to compose a bouquet of flowers, but I can tie a bath broom with my eyes closed. That's just how it is. Not everyone can make a good bath broom," – says Mr. Juozas. He usually cuts branches for bath brooms from recultivated forests, where birch, lime and other trees naturally grow alongside the conifers planted there. Foresters are thankful to him because, by gathering branches for his bath brooms, he "weeds out" trees to the pine and fir saplings can grow.
By the way, most bath brooms begin to be tied no earlier than one week before St. John's Eve. However, when they are finished varies. Birch ones are completed by the beginning of August, while oak ones can be tied as late as October.
In order to tie a bath broom correctly, one must know how to put the branches together so that they'd make a proper bath broom rather than a laughable ordinary broom. According to Mr. Juozas, the branches must be arranged into three piles according to length before tying them. The longest branches are placed in the centre. Shorter ones are tied around their edges, and these are followed by the shortest branches. The size of the bath broom depends on who the broom will be used to beat. Bath brooms for men are made wider and longer to ensure that they grab more hot air. Women's brooms are more narrow, while the smallest and lightest ones are used for children.
The ends of the branches have to be tied into a firm base, but not everyone knows what this base is for. During beating, the base of the bath broom can be used for massages. It can also be used to perform acupressure, which affects certain points on the body. Only the best sauna masters know where those points are and how to press them. This is why Mr. Juozas carefully trims the base of every bath broom. According to him, a bath broom can't be tied with any old string. The best types are natural cordage or a hemp rope.
More sexuality
The master of steam says that most sauna fans in Lithuania are used to birch and oak bath brooms. However, he also says it's worth trying ones made from less common plants or ones with medicinal herbs.
"Oak bath brooms are used to beat men because they are harder and wider and you can hit harder with them, transferring more heat to the recipient," the sauna master explained. According to him, aspen and alder bath brooms embody the masculine spirit because these are best for compressing the body while beating. The most popular branches are birch. These are considered the most masculine type, but they are suitable for everyone.
Feminine bath brooms are made of apple tree, rowan, and currant. Since ancient times, it has been noticed that these branches have the greatest positive effect on women's sexuality. Lime tree bath brooms are also suitable for women. These are excellent for cleaning the skin and spreading positive energy.
Austrotas explained that, for rehabilitative efforts or in order to feel a stronger effect from the sauna, bath brooms can be tied with medicinal herbs. These bath brooms can be used for waving in the sauna as well because of their fragrance. For example, one of Juozas' secret bath broom combinations includes birch, rowan and blossoming lime branches enriched with mint and stinging nettle.
"After soaking this bath broom, it gives off an excellent aroma, and you can drink the water it's soaked in. This tea of sorts has an excellent toning effect. This bath broom water can also be poured on the rocks to improve your mood," Mr. Juozas shared his experience.
Even stinging nettle brooms have their place in the sauna. According to the sauna master, they can be used to beat people with rheumatism or other joint illnesses. They no longer sting after being scalded, but it's still a good idea not to overdo it, since they do have a powerful effect.
Some time ago, sauna masters would dry bath brooms on their rafters to have them ready for the entire year. These days, it has become standard practice to store them in freezers. When thawed, they feel like they've been freshly tied and smell as though they've just come from the woods. By the way, not all bath brooms can be dried. Apple tree brooms are only used fresh after being picked in the first half of June.
Beating to massage
Flogging, beating and thrashing aren't the same – sauna masters are good at telling the difference. When flogging, the bath broom barely touches the body. The person feels gusts of hot air and the broom moves with powerful strokes. Juozas the sauna master says that developing a good flogging technique is tricky, especially if compression is also applied – that is, if the body is pressed and rubbed using the broom itself or its handle. Bath broom techniques can only be learned step by step, and an entire year or even several are not enough. There's always room to improve, so the sauna master community holds events and training sessions, competes in championships, and communicates constantly.
Mr. Juozas believes that the sauna visitor must feel pleasure instead of stewing in the heat or endure their beating like a prisoner being punished. A good sauna master feels the person they're beating. Correct beating is much like a healing massage, because in the sauna, when the body heats up, its muscles and joints relax. An experienced professional can help you not just rest, but achieve a health goal.
Sauna Steam
At the end of every year, the Druskininkai water park hosts a celebration called "Sauna Steam." Sauna lovers and experts from throughout Lithuania, Latvia, Ukraine, Russia and Poland attend. Here, sauna experts share their experiences and the latest news, and pamper visitors with inventive sauna programs. "The Zanavykas' Bath Broom," Green Leaf, White Foam," "The Frolicking Laumės," "The Four Elements" – these are just a few of the intriguing program names that hide unexpected scents, sights, sounds and experiences.