An easy weekend in Druskininkai: 14 activities and only 11,122 steps
2020 05 13
Sometimes you need a second vacation to get away from your vacation planning. Especially if you want to fit 14 activities for your body, soul, and palate into a single weekend. However, you can manage all of that in Druskininkai without any difficulty because everything here can be reached in just a few hundred steps. We've prepared a detailed dream weekend in Druskininkai for you and even counted all of the steps!
Friday
20:00 Arrive at Flores hotel on Vilniaus alėja. Here, you are greeted by the true spirit of the island of Bali. In the rooms, you will find carpets of banana leaves and reeds, headboards covered in wooden ornamentation, hand-carved Balinese dynastic family carvings, and an enchanting winder garden full of magical statues of gods and goddesses. The only thing that will remind you that you're not in exotic Indonesia is the cozy Druskininkai old town or the wide bend of the river Nemunas outside your window.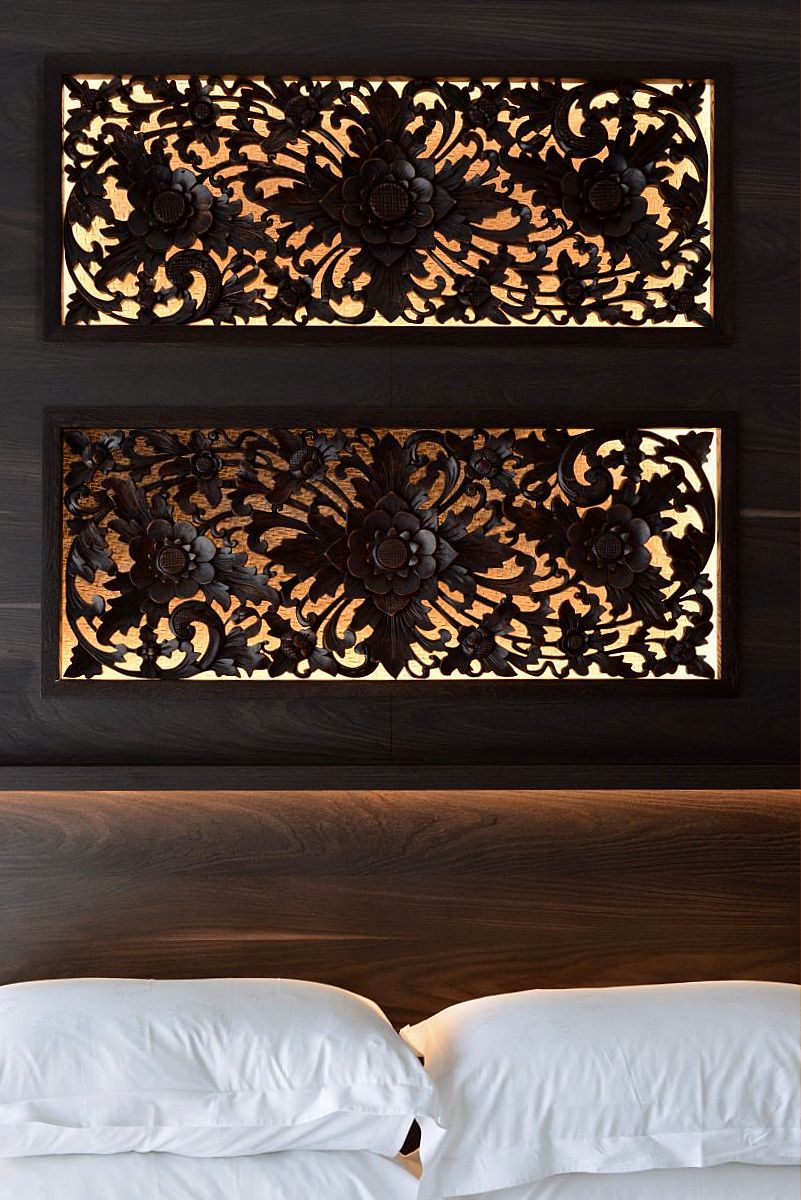 688 steps to dinner.
21:00 Dine at the La Corona restaurant – this is a new location that delights visitors with its love for food and the attention it pays to its visitors. We recommend trying the mussels stewed in white wine or the tagliatelle pasta with sun-dried tomatoes, honey mushrooms, and black olives. An excellent culinary beginning to an excellent weekend.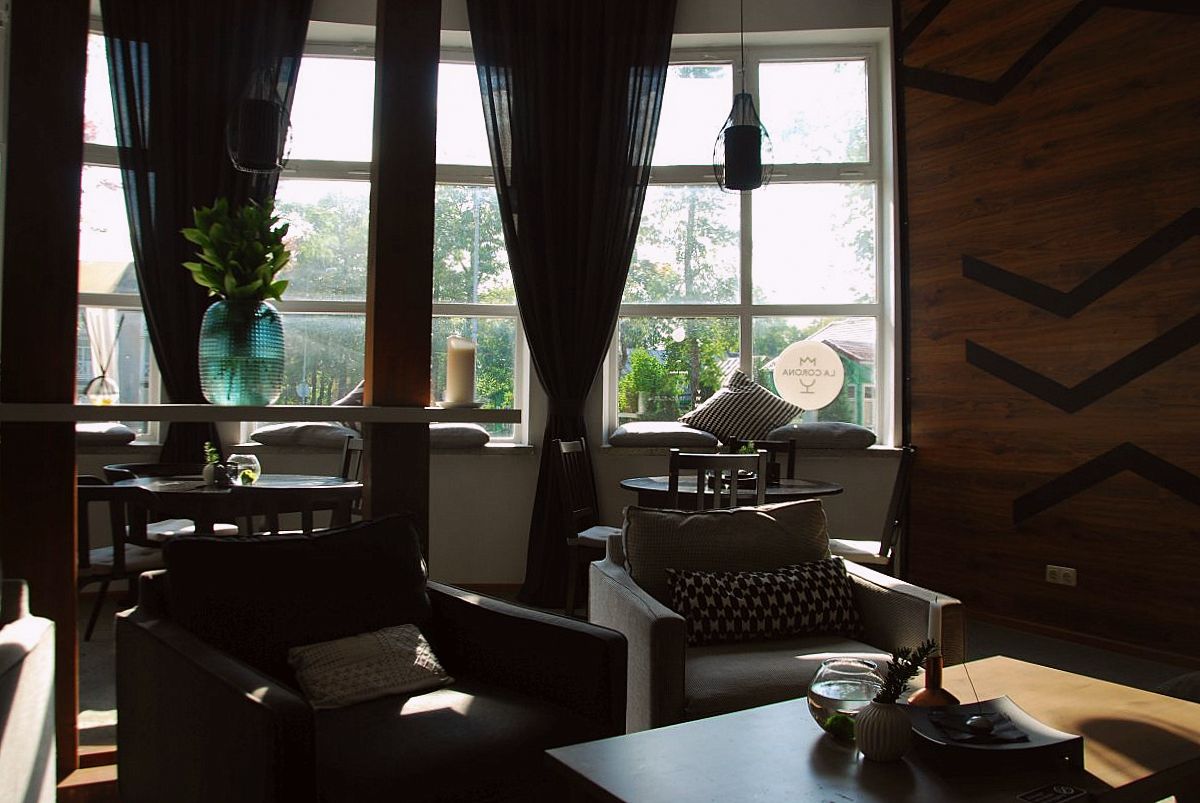 22:00 Back to Flores hotel along the cozy, well-lit streets of the Druskininkai old town. Walk along the paths past Druskininkai church, the monument to M. K. Čiurlionis, and the Nemunas, and breathe the special air of Druskininkai, which is rich in negative ions.
The walk back to your hotel will take 2,700 steps.
23:00 Now, walk along the carpets that tickle your feet to the earth-coloured marble bathroom and then to your soft sheets. We suggest going right to bed, because there's a big day ahead of you tomorrow.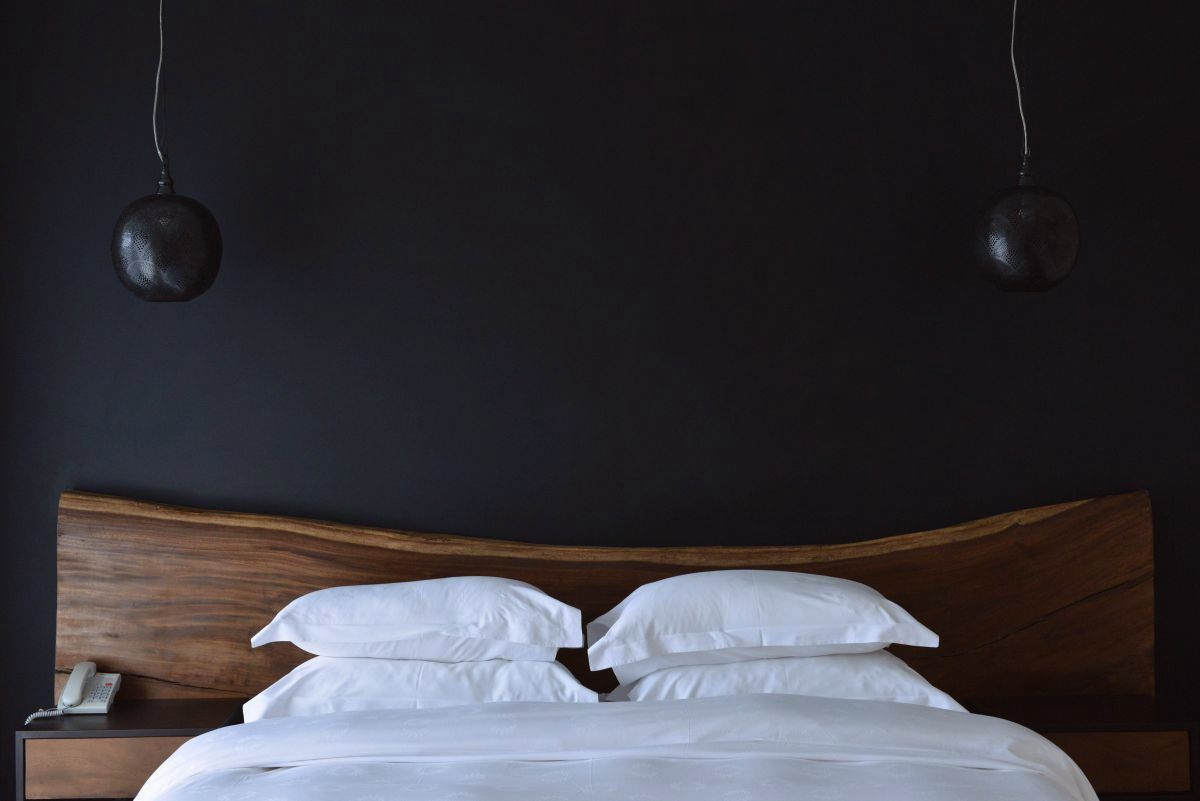 It's just 7 steps from your decorated bathroom to your bed.
Saturday
9:00 There's no better alarm clock in the world than hotel breakfast. Choose a light and energy-rich breakfast, because the first half of your day will be an active one.
112 steps to the lift.
10:00 You can take a cable lift from the hotel to Druskininkai's Snow Arena. Over a few minutes, you will see a cozy panorama of Druskininkai, with the canopies of tall pines flashing by. The trip will be crowned by a broad and impressive bend in the Nemunas.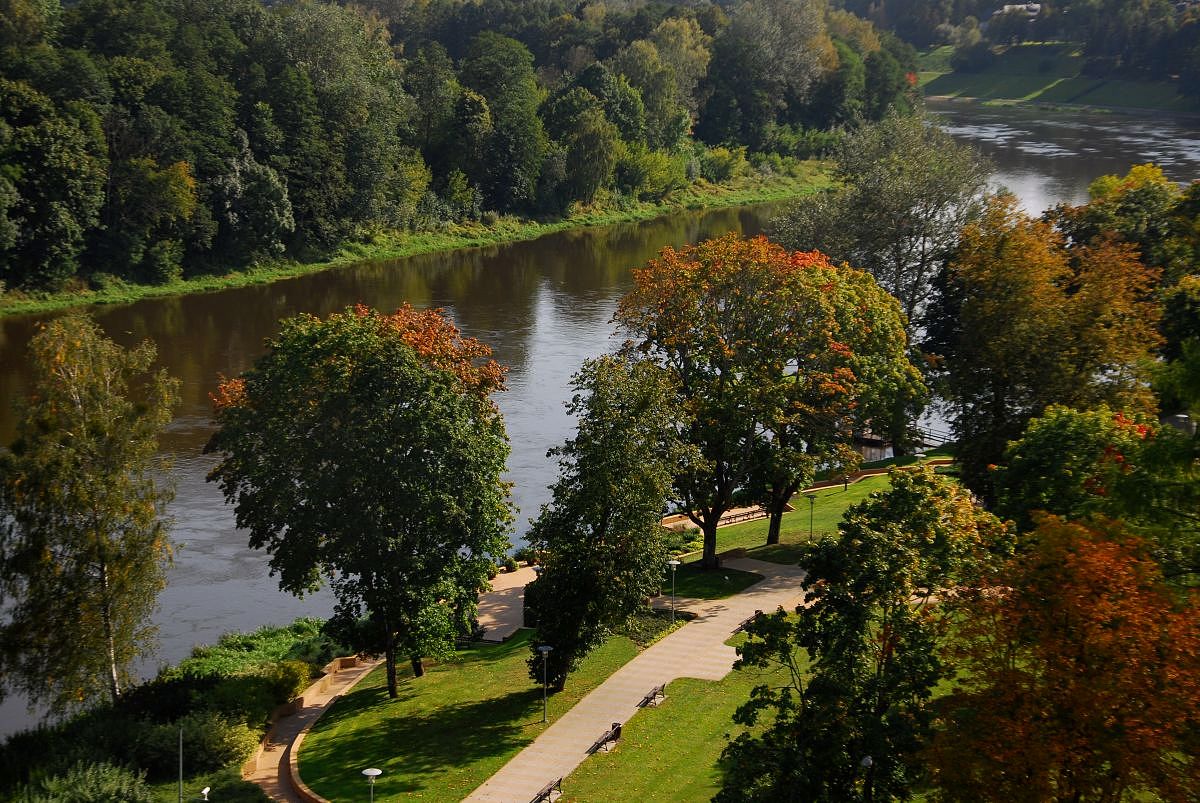 It's 60 steps to the doors of the Snow Arena.
10:10 The Snow Arena is truly heaven for fans of winter activities. There's plenty of snow here all year round. Even if you didn't plan to ski this weekend, you can rent all of the clothing and ski gear you need here. Visit the ice bar with drinks and snacks for the perfect break.
It's 60 steps back to the lift.
12:40 You enjoyed the views of Druskininkai on the way up, so now it's time for a ski lift selfie!
12:50 After your morning full of sports, you've earned a champion's lunch. At the Aqua restaurant, Stanislav Kizenevič, one of the best chefs in Lithuania, will offer you milk calf liver with pumpkin puree and asparagus, angus beef, or duck thigh confit that has been cooked for 24 hours.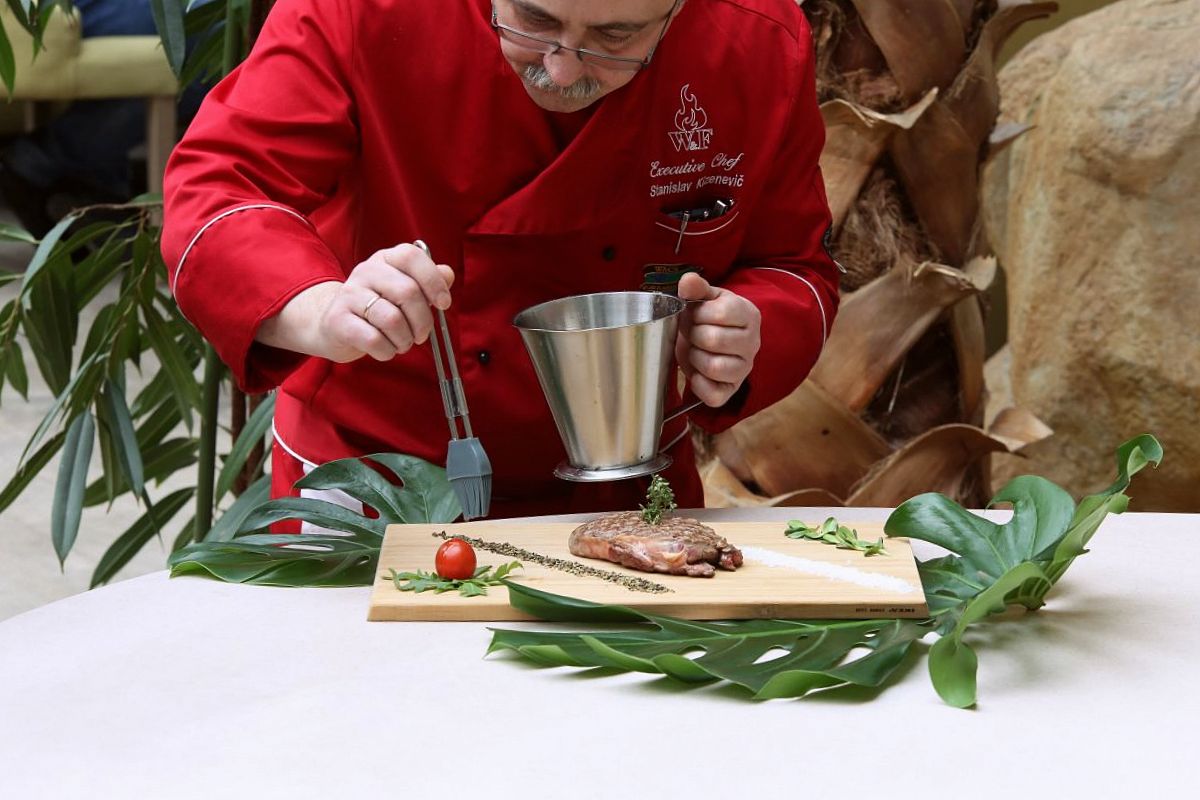 It's 100 steps to Aqua restaurant.
13:50 Thanks to the name of the restaurant, you've probably guessed that it's time for some active but relaxing fun at the water park. This place stays at 30 degrees all year round, with real waves washing your feet. There are adrenaline-pumping water slides and 22 saunas with honey, bath broom, and aromatic procedures. This selection of vacation activities has never been so close!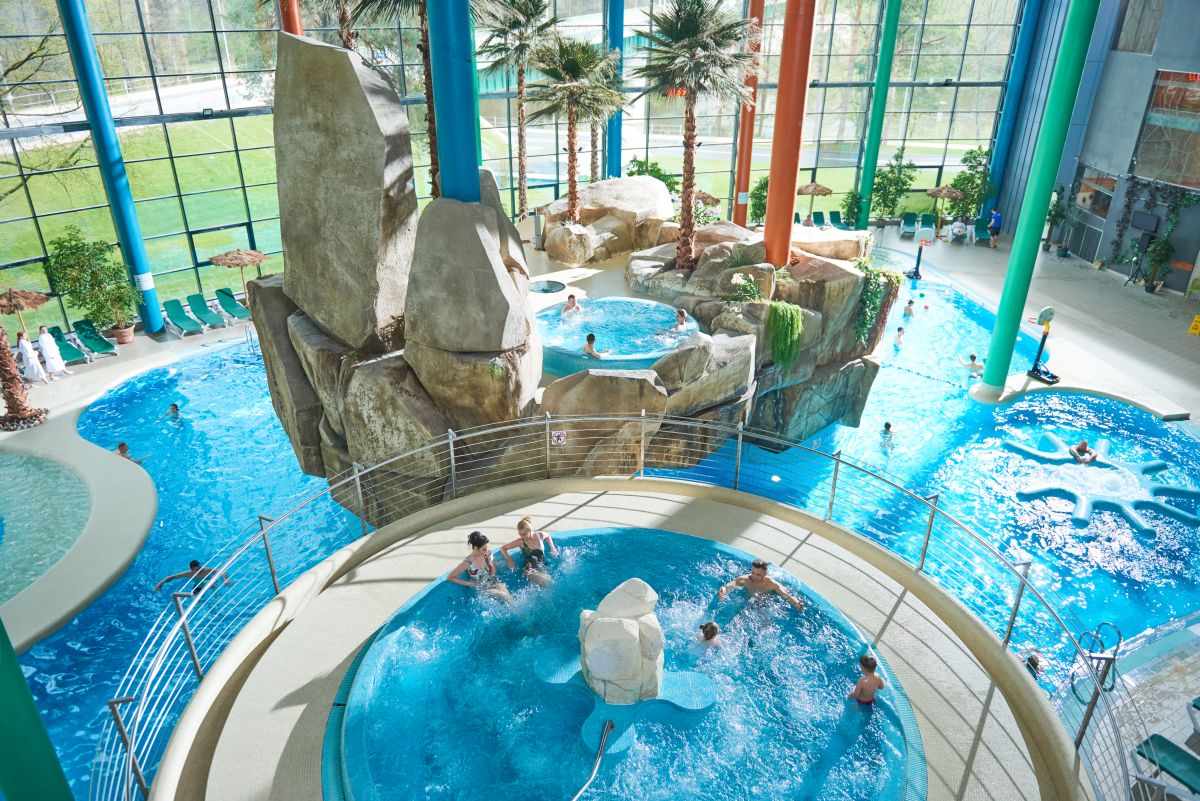 17:50 After this array of activities and the sound of all the water, your hotel room has become a true oasis of peace. After a few minutes in front of a mirror framed with old Balinese wood, you're ready for a delicious dinner. As you walk through Druskininkai, don't miss the health resort park's musical fountain. During the warm season, it "dances" to Louis Armstrong's "What A Wonderful World" or other songs that can be ordered via SMS. In the winter, the fountain becomes a podium for Christmas trees.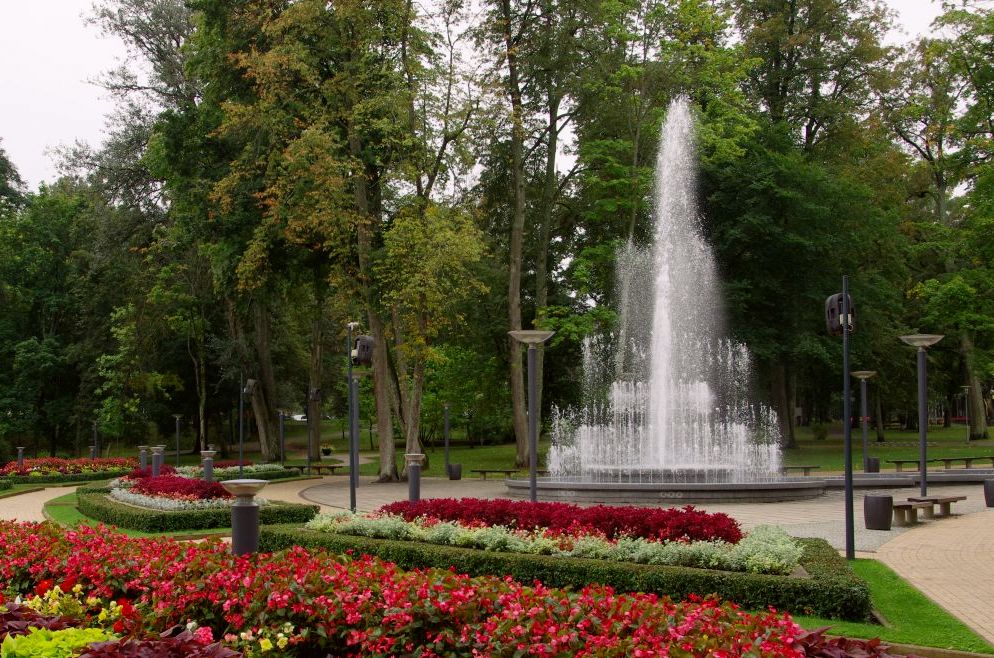 It'll be 1,375 steps to your dinner.
18:15 It is said that anyone who's been to Druskininkai has been to Sicilija, so choose this place for your Saturday dinner. Don't be surprised if you'll have to wait a few minutes for a free table. On weekends, this restaurant gets plenty of guests. The grilled venison here is so good that it has to be tasted to be believed.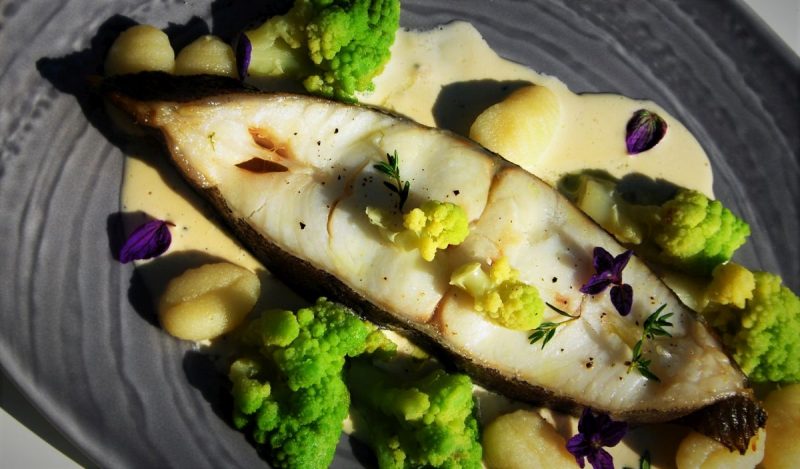 19:15 Those calories won't burn themselves, so be sure to visit Vijūnėlė park before returning to the hotel. In the evenings, the pine groves in the park give off a wonderful scent. However, promise to yourself that you'll return here in April, when more than 220,000 narcissuses bloom in the park.
You'll take 3,750 steps back to the hotel through the park.
19:45 That was an intense day. You're worth an impressive ritual for your body and soul.
20:00 The workers at the Flores SPA centre perform massages and procedures on special water tables, slabs of marble, and beds washed with tropical rain. We recommend a two-hour body ritual for couples – "Pleasure for two." Here, women's bodies are covered in chocolate while men's are covered in seaweed. Later, you'll enjoy a massage, mineral water in a marble bath, and special tea with ginger.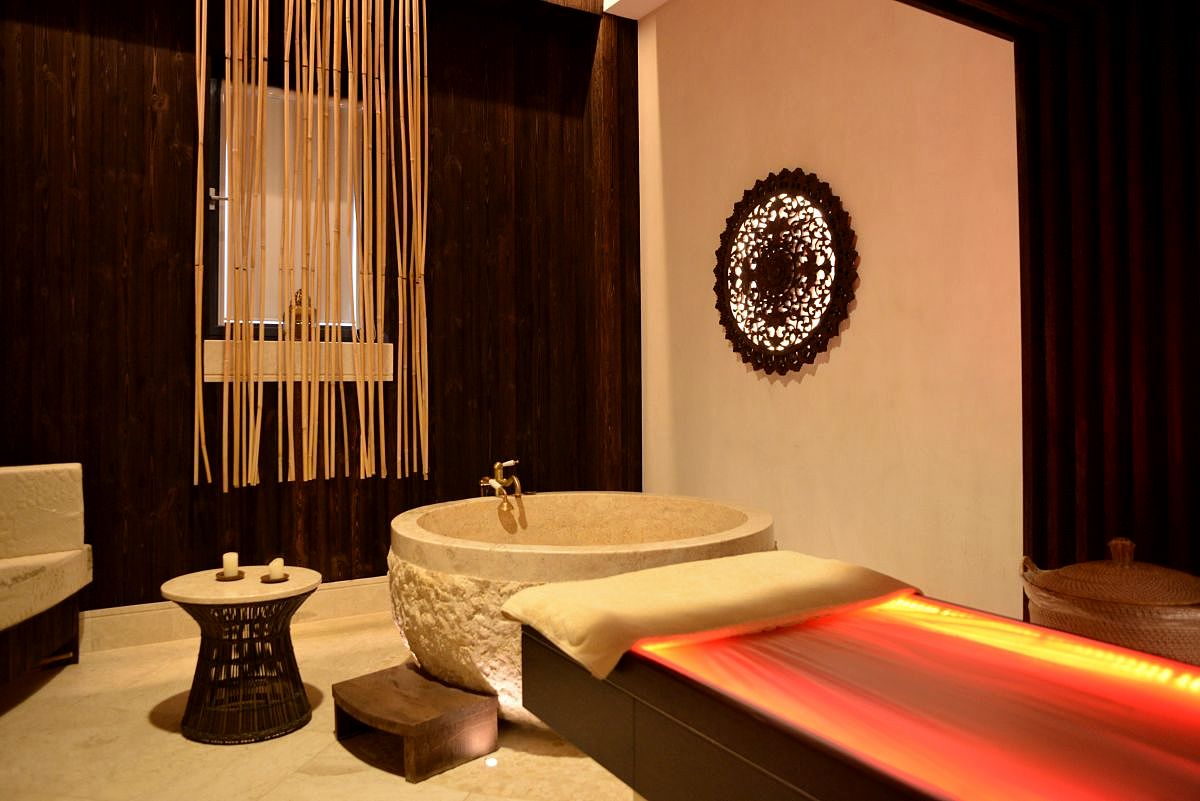 22:00 We bet that after such an intense day and a relaxing finale, you'll only finish one page of your favourite book.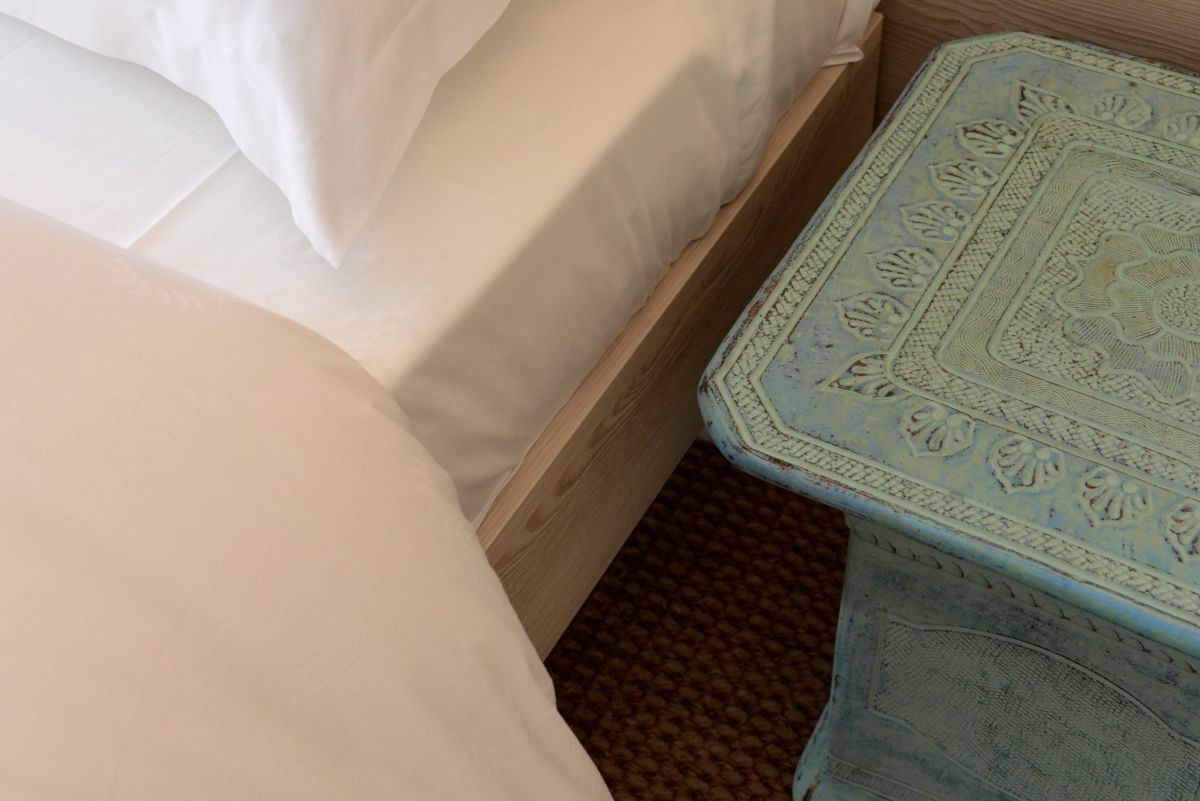 Sunday
9:00 If you didn't have enough time yesterday to try something from the wide selection of breakfast foods, this is your last chance to do so. But don't weigh yourself down, because you're about to give your body a much better gift.
Take 70 steps to the health resort.
10:00 The Druskininkai Health Resort can be found right next to your hotel. The workers like to joke by calling this place a health factory. However, this is an excellent time to spend a few hours enjoying mud baths and underwater massages, drink some real Druskininkai mineral water, and experience some freezing cryotherapy.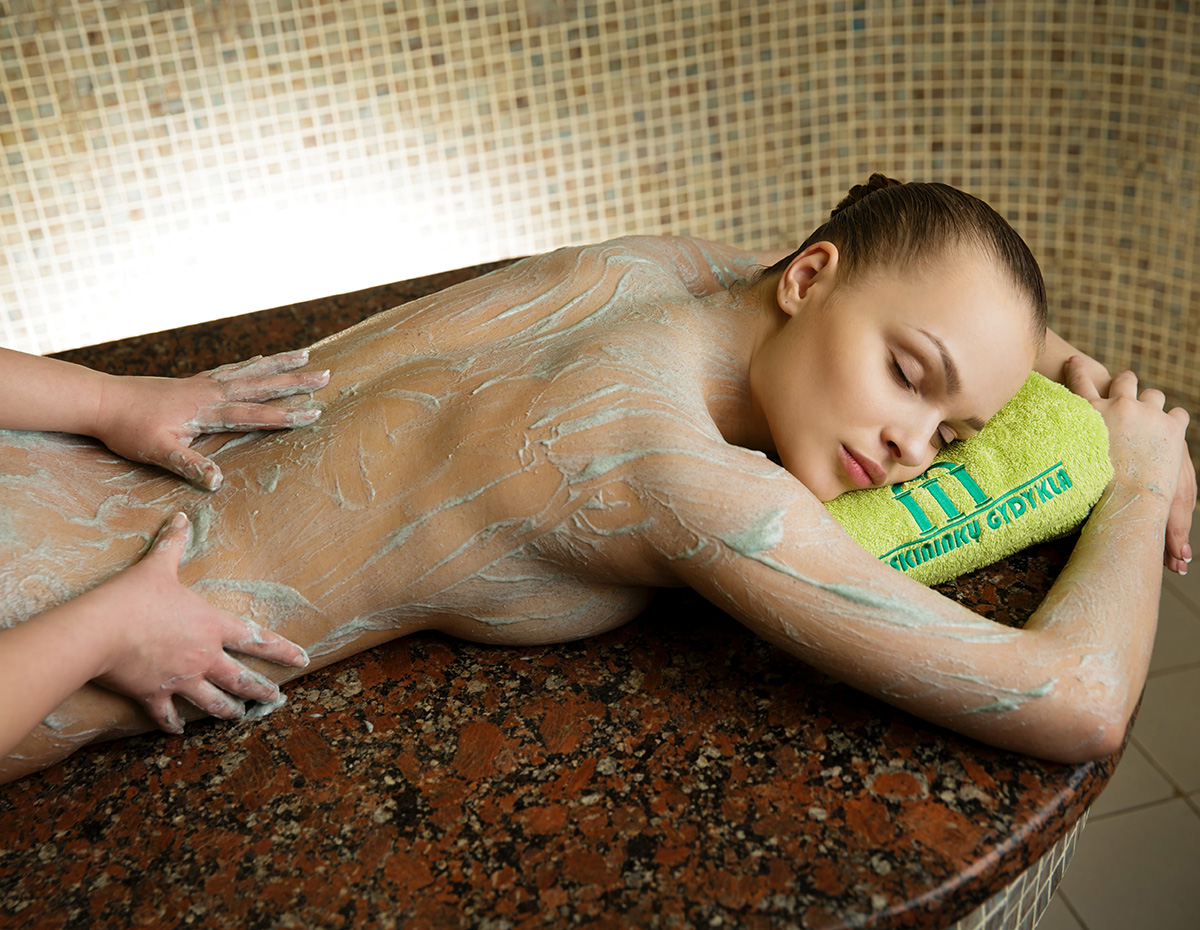 It'll be 1,000 steps to the restaurant.
14:00 On the last day of your visit, taste some Dzukijan dishes and a special drink that the famous Forto Dvaras Lithuanian cuisine restaurant located on the bank of Druskonis lake is known for. Start with the traditional cream of mushroom soup made of mushrooms from the surrounding forests and served in a rye bread bowl. What will you pick for your second dish? We suggest you pick once you're there.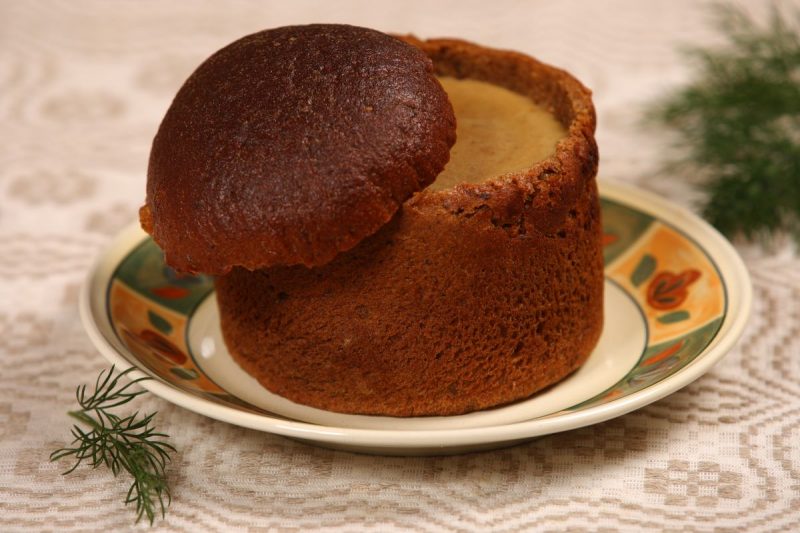 1,200 steps to K. Dineika park.
15:00 We hope you don't have any big plans at home for Sunday. After your filling lunch, walk along Druskonis lake and admire the swans until you soon reach the K. Dineika health park. During the warm season, this is a great place to enjoy sun bathing and water fountains. The rose bushes in the park give off relaxing and aromatherapeutic scents while the flowerbeds and junipers provide you with chromotherapy. You can achieve spiritual relaxation in special yoga and meditation terraces, from which you can hear the babbling of nearby Ratnyčėlė.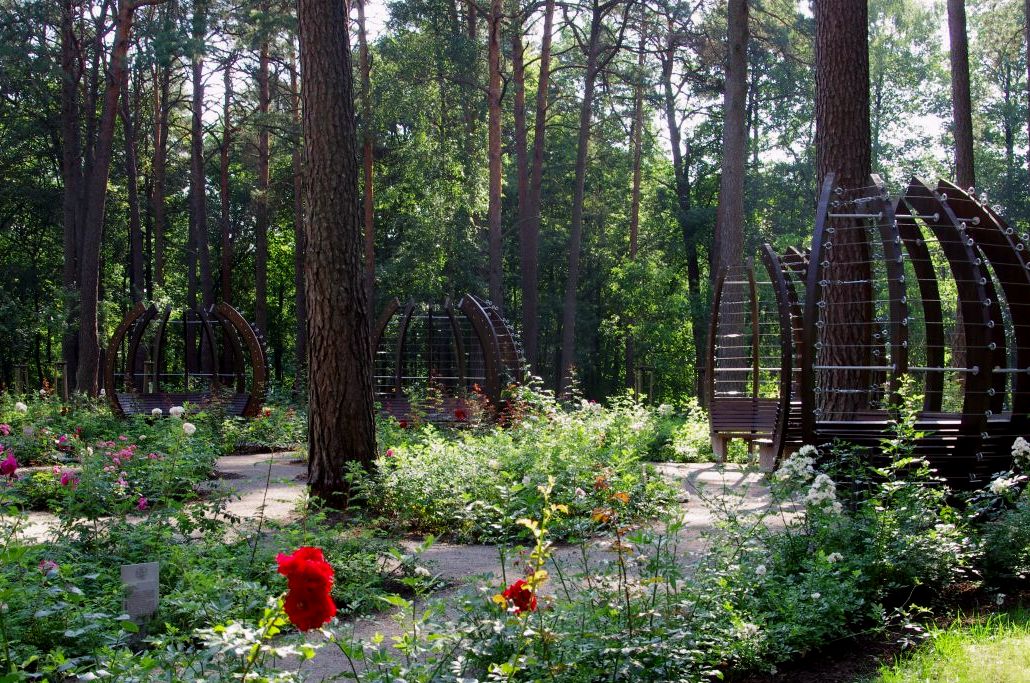 15:40 If you still have energy, be sure to swing by the town of Merkinė on your way home. Don't forget to count all of the steps on the Merkinė castle mound and see the twisted bends of the Nemunas and Merkys.